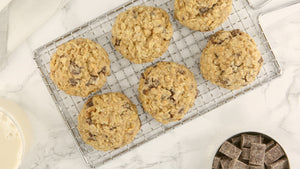 Oatmeal Chocolate Chunk Cookies
Ingredients
| | |
| --- | --- |
| 3/4 cup | oat flour |
| 1/2 cup | old fashioned rolled oats |
| 1/4 cup | quick oats |
| 1 scoop | Kaizen Naturals® Vegan Protein Vanilla Bean |
| 1/2 tsp | baking soda |
| 1/2 tsp | cinnamon |
| 1/4 tsp | sea salt |
| 1 tsp | vanilla |
| 1 | egg, large |
| 1/4 cup | coconut sugar |
| 1/2 cup | coconut oil, melted |
| 1/3 cup | chocolate chips  |
Recipe
Makes 24 servings
Preheat oven to 350ºF. Line a baking sheet with parchment paper and set aside.
In a medium-sized bowl, stir together the oat flour, old-fashioned rolled oats, quick oats, protein powder, baking soda, cinnamon, and sea salt. Set aside.
In a separate bowl, stir together the vanilla, egg, and coconut sugar. Melt the coconut oil and let it cool slightly before adding to the bowl. Make sure to measure the coconut oil in its liquid state. Stir until well combined.
Add the wet ingredients to the dry ingredients and stir until just combined. Fold in the dark chocolate chips.
Cover the dough tightly and chill for 30 minutes or until the dough has hardened enough to scoop out cookie balls.
Using a cookie scoop, scoop the dough onto the prepared baking sheet, making sure to leave a little room between each one.
Bake for 7-9 minutes. They may look a little underdone in the center, but they are the best when slightly under-baked and will harden after cooling.
Remove from the oven and allow to stay on the baking sheet for another 2 minutes before removing to a cooling rack. Enjoy!
Recipe Courtesy of Michelle Garland
---