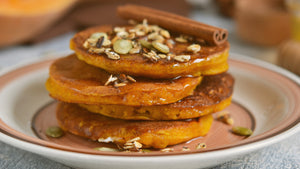 Pumpkin Spice Protein Pancakes
Ingredients
| | |
| --- | --- |
| 1 1/2 cups | whole wheat flour |
| 1 scoop | Kaizen Naturals® Vegan Protein Decadent Chocolate |
| 3 tsp | ground flaxseed |
| 1/2 tsp | baking soda |
| 1 tsp | baking powder |
| dash | salt |
| 1/2 tsp | cinnamon |
| 1/4 tsp | pumpkin pie spice |
| 1 tsp | vanilla |
| 1/3 cup | pumpkin puree |
| 3/4 cup | almond milk |
| 1 cup | water  |
Recipe
Start by combining the flour, protein, flaxseed, baking soda, baking powder, cinnamon, and pumpkin pie spice in a large bowl and stirring until evenly distributed.
Add in the vanilla, pumpkin puree, milk, and water. Stir until a smooth batter forms.
Cook in a non-stick pan over medium heat for 3-4 minutes on each side (until golden brown) and enjoy!
Recipe Courtesy of Clara MacLeod
---