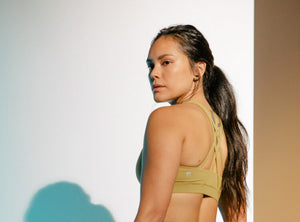 Rebecca Merasty
Bio
Rebecca Merasty is a First Nations Cree woman born and raised in Treaty 6 in Flying Dust First Nation and Meadow Lake, Saskatchewan. She now feels privileged to currently reside on the unceded territory of the Coast Salish peoples, Squamish, Tsleil-Waututh and Musqueam Nations in Vancouver, BC.
Movement has always been an integral part of who Rebecca is, which has led her to study nutrition & personal training, become a wellness advisor, and now training to keep living a healthy lifestyle and stay ready for work as she also models. As a person with a wide variety of interests, Rebecca also works as an assistant stylist, costumer for film & television and acquisition assistant for motion capture. She loves learning and acquiring new skills all the while meeting genuine humans along the way.
Favourite Way to Sweat
Rebecca loves to sweat doing any activity! Her favourite sport is volleyball and she played in university. So before the pandemic, she would love to sub for indoor and beach teams. However, Rebecca always enjoys friendly competition whether it be throwing a frisbee or football, basketball or going for lifts in the gym. Recently, Rebecca and her partner have began going for night runs and they have since been her favourite way to sweat as it's meditative, peaceful and grounding.
Favourite Way to Recover Post-Workout
Rebecca's post-workout routine involves a stretching session coupled with foam rolling, Kaizen Naturals® BCAA's, and great music.  
Greatest Accomplishment
Rebecca considers her greatest accomplishment to be to be coming into her own. As a Cree, First Nation's woman hailing from the reserve in Northern Saskatchewan, she has been driven to become accomplished. She has competed on the national and international level for volleyball/played university level volleyball, she is in a feature film on Netflix called The Miracle Season, she has booked campaigns for an Indigenous fashion week, multiple Lululemon campaigns, shot for SportChek, and worked her way up in production for film and television, and she is continuously looking to increase my knowledge within production and health & wellness. 
Go-To Recipe
Living Your Best Life
To Rebecca, living your best life means doing what truly speaks to your spirit therefore, doing what makes you happy. Genuine connection with others, movement, being multi-faceted in your skills and knowledge, and truly being mindful and understanding of the many different lives around you and their journeys. 
Favourite Products
---