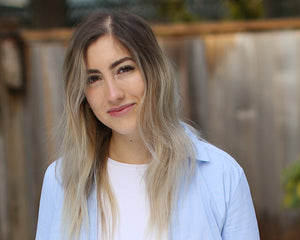 Michelle Garland
Bio
Michelle is a Certified Holistic Nutritionist, a Registered Sign Language Interpreter and wellness enthusiast. She is the founder of Plentyfullme Nutrition and Lifestyle Consulting where she brings individuals' health back into balance by working with them one-on-one to implement simple and realistic modifications to their dietary choices, lifestyle habits, and emotional well-being. Michelle also gives talks in the community and teaches cooking classes both in spoken English and in American Sign Language.  As a Holistic Nutritionist, Michelle believes that in order to have a healthy, fulfilling life, you must make yourself a priority by taking care of your body and mind. For Michelle, this includes exercising, eating a well-balanced diet, and meditation.
Favourite Way to Sweat
Michelle loves taking group fitness classes. Some of her favourites include spin, bootcamp, and TRX. If she is working out on her own, she does a mix of weights and cardio. On days where Michelle needs more zen, she loves going to yoga, especially infrared. In the summer, Michelle enjoys going on hikes and walks through the forest.
Favourite Way to Recover Post-Workout
Greatest Accomplishment
Michelle considers her greatest accomplishment to be graduating with First Class Honors from the Institute of Holistic Nutrition.
Go-To Recipe
Living Your Best Life
To Michelle, living your best life means doing everything you can to be the best version of yourself. It's making balance a priority between family, friends, work and play. It's surrounding yourself with positive energy and experiencing life in a way that nourishes your mind, body and soul. It's giving yourself permission for self-care and protecting your boundaries by saying no to things that don't align. It's waking up every day with purpose and doing the things that make you the happiest and feed your soul.
Favourite Products
---