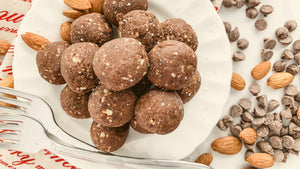 Dark Chocolate Peppermint Bites
Recipe
Add the almonds to a food processor and blend until it's a flour-like consistency.
Add the dates, protein powder, sea salt, cacao powder, and peppermint oil. Blend again until the mixture is evenly combined.
While the processor is running, add the water one teaspoon at a time until the mixture starts to glue together and form a dough-like consistency. 
Roll the dough into bite sized balls and store in the refrigerator for up to two weeks. 
Recipe Courtesy of Lindsay Mustard
---