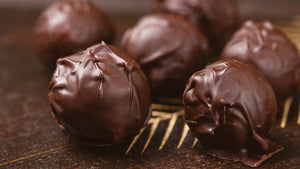 Crispy Coffee Protein Bites
Directions
Place almonds into a food processor and process until roughly ground.
Add in the almond butter and dates, and continue to process until it starts to form a paste.
Add in the ground coffee and chocolate chips, and process until combined.
Add in the protein powder and process again, until a thick dough is formed. If dough is too dry, scrape the sides down and add one TBSP of water at a time until it gets more moist.
Once dough is fully combined and formed, scoop out with a spoon and form bites. Place the bites on a parchment-lined sheet, and set in freezer for 15-20 minutes.
Remove from freezer and transfer to an air-tight container. Store in fridge!
Enjoy!
If coating them in chocolate, melt chocolate and coconut oil on a double boiler or in a microwave. Allow chocolate to sit for a couple minutes. Remove the bites from the freezer and lightly coat in the chocolate. Once coated, place them back in the freezer for another 20 minutes.
Recipe by Tiana Pollari.
---