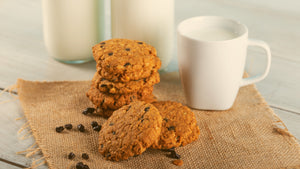 Chocolate Chip Protein Cookies
Ingredients
2

bananas

1 scoop

Kaizen Naturals® Vegan Protein Vanilla Bean

1 tsp

baking powder

1/2 tsp

baking soda

dash

cinnamon

1 tsp

vanilla

2 tsp

ground flaxseed

3/4 cup

non-dairy milk or water 

1 cup

oats

handful
 

dairy free chocolate chips
Recipe
Preheat the oven to 375 and line a cookie sheet with parchment paper.

In a food processor, blend the bananas, protein powder, baking powder, baking soda, cinnamon, vanilla, and flaxseed until smooth.

While blending, add the non-dairy milk or water little by little. Blend in the oats until they become a flour-y consistency and a batter forms.

Allow to sit for 10 mins to thicken. Stir in your chocolate chips until evenly distributed.

Drop by heaping spoonful onto your cookie sheet and bake for 15-20 mins until golden brown and firm.

Enjoy!
Recipe Courtesy of Clara MacLeod
---