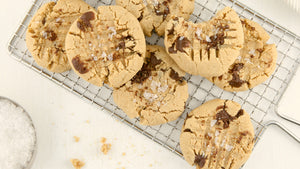 Cashew Protein Cookies
Recipe
Makes 24 servings
Preheat oven to 350 degrees F.
Throw all ingredients (except chocolate chips) into a medium-sized bowl and mix with a hand mixer until batter is fluffy. Once fluffy, add chocolate chips and fold in with a spoon until combined.
Shape dough into 1-inch balls and place on a baking sheet with 1-inch space in between. With a fork, gently press a criss-cross pattern into each dough ball to flatten. If you find your fork sticks to the dough, you can drop it in a bit of flour.
Now pop your cookies into the oven and bake for 8-10 minutes. When done, remove from oven and let cool before serving.
Recipe Courtesy of Michelle Garland
---