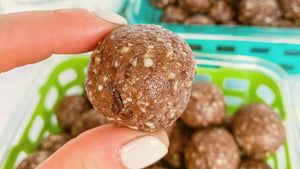 6-ingredient Chocolate Chunk Bites
Directions
1. Add the cashews to a food processor and pulse until they are a crumb-like consistency.
2. Add the dates, protein powder, cinnamon and sea salt and pulse again until the mixture is evenly blended.
3. While the processor is running on low, slowly add the water a tablespoon at a time until the mixture sticks together and forms a dough like consistency. Add the chocolate chunks and blend until combined.
4. Break the dough into small pieces and roll into bite sized balls. Place the balls in a glass container and store in the refrigerator for up to seven days.
Makes 12-15 bites—depending on how much of the dough you snack on 😉
Recipe by
Lindsay Mustard
.
---