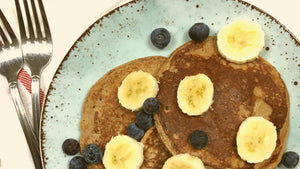 3 Ingredient Protein Pancakes
Recipe
Makes 3 pancakes
Heat a large skillet with oil over low-medium heat.
Place all of the ingredients in a high-speed blender and blend until smooth.
Using a ¼ cup measure, pour the batter into the skillet and cook for 2-3 minutes on each side or until golden brown.
Top with bananas, blueberries, and maple syrup.
Recipe Courtesy of Lindsay Mustard
---