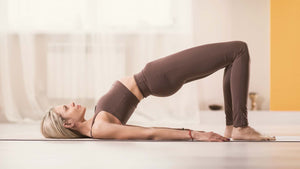 Tips and Glute Workout for Fat Burning
If your goal is to lose body fat sustainably, you'll need to adhere to a healthy diet full of nutritious foods (like my
Low-Carb Vanilla Protein Pancakes
) and push yourself to train hard during consistent workouts. Here is a fitness program that is designed to help shred body fat while building your glutes.
The Workout
Pair any two exercises together and do each for 60 seconds, then rest for one to two minutes. Repeat two more times including rest periods, then move on to the next pair of exercises. Perform each exercise three times.
| | | |
| --- | --- | --- |
| Exercise | Sets | Reps |
| High Step Ups with Knee Drive | 3 | 1 minute |
| High Toe Taps | 3 | 1 minute |
| Lower Body Elevated Glute Hip Thrusts | 3 | 1 minute |
| Bench Jump Overs | 3 | 1 minute |
| Banded Side Shuffle | 3 | 1 minute |
| Lower Body Elevated Plank Walk Overs | 3 | 1 minute |
Check out Julie's full video demonstration of this workout here!
Tips for Fat-Burning
Eat a high protein diet, aiming to have whole food protein sources like chicken, eggs, or tofu with each meal.

Reduce alcohol consumption.

Be sure to eat plenty of high-fibre foods daily, including fruits, veggies, and legumes.

Prioritize sleep! 8 hours +.

Avoid trans fats but include healthy fats such as avocado, olive oil, and nuts.

Reach for whole grains like brown rice or quinoa, and avoid refined carbohydrates like white bread or pasta.

Enjoy a cup of coffee, but try to drink it black or just with a splash of milk instead of full of refined sugars.

Add strength training 2-5x/week and incorporate cardiovascular activity regularly.

Consistency is more important than intensity! Pace yourself <<link to January article>> and be proud of every effort you make during your fitness journey! You're doing what it takes to achieve your goals!
Coach Julie Germaine is a NFLA-certified fitness expert and prenatal trainer, and a NASM-certified nutrition specialist. She is also a 2x world-class fitness champion who has been featured in and contributed to numerous fitness, fashion, and lifestyle magazines and other media. She has loved helping men and women lose belly fat and maintain inspiring body transformations as a virtual coach since 2005.
---