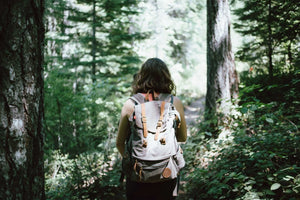 Hiking. Running. Walking - Get Outdoors! Get Moving!
Tomorrow marks the start of May long – a weekend typically dedicated to the outdoors. A tradition is Canada that not only honours Queen Victoria, born May 25th, but also is traditionally the kick off to summer. May long urges people from Sandspit, B.C. to Cartwright, Newfoundland to shake loose winter skin and begin again. It is a time to dust off the deck and air out the tent trailer. It is a time to prop open windows, pump tires, and pitch tents.
Exercising outdoors can be therapeutic; often the sights abound can accelerate your soul. Hit the trails, try out of new hike, hop on your bike, heck…climb a tree!
With many of us here at Team Kaizen training for races and such (cannonball competitions), it's amazing what fresh air can do for the body. Did you know fresh air can help to improve your digestion, while decreasing your blood pressure and heart rate. #moreoxygen
Fresh air can make you happier. #serotonin It can improve your mental state and even help to elevate your energy levels.
Laura Ingalls Wilder said, "Some old-fashioned things like fresh air and sunshine are hard to beat."
So this long weekend, be sure to stretch your mind and body. Push yourself to add an extra kilometer or two to your bike ride. Let Rover wander an extra block over. The presence of trees can really impact the way we see the world. Nature not only smells and sounds good, it helps to boost creativity. SO grab your dog, your life partner or your kids and experience the great outdoors this weekend!
With 243,000 km of Canadian coastline available to walk, run, hike or stroll, if you walked at a pace of about 20 km each day, it would take you 33 years to get where you're going.
No excuses here, just our wishes for a great May long. Here's to raising glasses (shaker cups), expectations, and patriotic pride for a weekend dedicated to all things royal, all things Canadian and especially, summer.
Cheers!
---