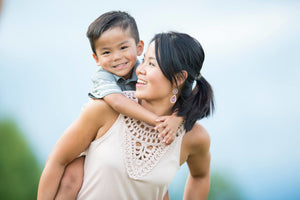 A Day Dedicated to our Moms
This Sunday, we challenge you to spoil your momma.
Donna Ball said, "Motherhood is a choice you make everyday, to put someone else's happiness and well-being ahead of your own, to teach the hard lessons, to do the right thing even when you're not sure what the right thing is…and to forgive yourself, over and over again, for doing everything wrong."
At Team Kazien, we're honouring moms everywhere. From Saskatchewan-born Olympic athlete Hayley Wickenheiser to curler Jennifer Jones, being a fit mom requires dedication and commitment. It also, requires a tremendous amount of support and forgiveness.
From the Margarets of literature, Atwood and Laurence, to the powerhouses of politics. From the mountain climbers to the mompreneurs. Women who raise children and expectations are the real superheroes. If you are at a loss as to how to spoil your mom this Mother's Day, here are just a few suggestions.
Spoil Your Mom
If you can, make mom a meal. She's likely cooked thousands of meals for you. Make it awesome. Grab a recipe from Chef Sam, fill up her bucket. Bring her fresh cut flowers; pick her up and drive her to dinner.
Moms don't need fancy gifts; they want togetherness and time. Moms want the din of family dinner and not have to do the dishes. Moms want to hear the sound of laughter and the knowing that you've eaten enough.
Donna Ball was right, being a mother is a choice made everyday. It is a dedication to the happiness of others and a deep reserve of patience. It is a selfless position to uphold, and one worthy of so much gratitude. This Mother's Day, go for a walk, give her the last piece of pie and don't rush to leave. After all, that kind of love and nurturing can often become our baseline of how we love ourselves and others. Here's to our moms and yours.
---