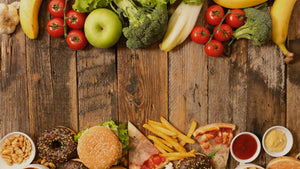 Healthy Food Swaps: Eat This Not That
We have all heard the saying, abs are made in the kitchen, and while it is a bit of an exaggeration, there is definitely some merit to it. Reaching your goals, whether that is to lose weight, gain muscle, get six pack abs, or just feel better overall, takes a dedication to exercising as well as making healthy food choices. And sometimes, ensuring that you are making the right choices to support your goals can be the most difficult part, especially with all those unhealthy but temptingly delicious options out there.
If you struggle with knowing what foods you should be consuming, then this blog post is for you. We believe in re-framing the way you think about dieting and eating healthy. Instead of focussing on what you can't eat, we want you to help you become aware of all the wonderful things that you can eat!
Whether you are baking or adding it to your morning coffee, swap out sugar for a calorie free option, stevia. There are many different forms of stevia and not all of them are a 1:1 swap for sugar, so ensure you are using the accurate amount.
Swap Pop for Carbonated Water
Sugary soda drinks can have surprisingly high calorie and sugar levels. If it's the carbonation that you're looking for, try switching to flavoured carbonated water instead.
Swap 2% Milk for Almond Beverages
Great for smoothies, almond beverages have about half the calories of regular 2% milk and the flavour can really elevate your recipe.
Swap Tortilla Wraps for Lettuce
Whether you're making tacos or having a chicken wrap, skip the whole wheat tortilla and instead use a lettuce wrap. Iceberg lettuce is the best option to help hold the wrap together.
Swap Chips for Air-Popped Popcorn
We all have the occasional salty chip craving, but they can easily be swapped out for air-popped popcorn if you are looking for a healthier alternative. Try out a number of different topping options, like coconut oil or flavoured seasonings, to keep your popcorn interesting.
Swap Pasta for Spaghetti Squash
Spaghetti is comfort food to the max and just because you are on a diet, you shouldn't have to miss out on that. A great alternative is to use spaghetti squash instead of the usual spaghetti noodles. Not only are there fewer calories, but spaghetti squash is also a source of fiber, vitamin C, and potassium.
Swap Mashed Potatoes for Mashed Cauliflower
Cauliflower is a great alternative and not only for mashed potatoes. It can also be used to substitute rice or pizza crust.
Swap Lasagna Noodles for Zucchini Slices
Lasagna is a classic family favourite. Make it a little bit healthier, and more micronutrient-rich, by using slices of zucchini instead of lasagna noodles.
Swap White Rice for Quinoa
Quinoa is a superfood and one of the only plant proteins that offer a complete amino acid profile. Instead of having rice with your meal, try quinoa instead. Hint: quinoa is also great in salads.
Swap Ice Cream for a Protein Smoothie
With summer quickly approaching, many of you may already be dreaming of warm beach days with an ice cream cone in hand. And as lovely as that sounds, its not something that we can enjoy all the time. If you're looking for that yummy, frosty flavour without all the calories, check out the Kaizen Naturals® Smoothie Recipe Book (link) for 18 protein-packed and delicious smoothies.
Remember, indulging occasionally is a part of life and won't stop you from reaching your goals. Sometimes the best memories come with making poor food choices; sometimes we all just need a piece of cake. Make these healthy food swaps 80 or 90% of the time but indulge when you feel like it.
*Nutrition facts may vary based on brand.
---