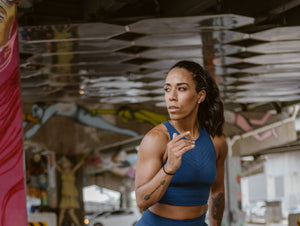 Tiana Pollari
Bio
Tiana is a personal trainer and holistic nutritionist who knows that living a healthy life goes beyond just food and fitness. As someone who has had a complex relationship with food, Tiana takes a holistic approach with clients to help them realize that food is just the symptom and get down to the root cause to make the shifts needed in their life. She knows that making changes can be difficult so its all about meeting clients where they are and walking them through the journey.
Favourite Way to Sweat
Tiana loves lifting weights - the heavier the better. Any day that includes deadlifts is a great day for Tiana.
Favourite Way to Recover Post-Workout
Tiana's post-workout routine involves some deep stretching, using a lacrosse ball to work the tight spots, and refueling with a post-workout chocolate smoothie.
Go-To Recipe
Greatest Accomplishment
Tiana considers her greatest accomplishment to be running three marathons and beating her time with each one. She is also proud of going back to school to study holistic nutrition.
Living Your Best Life
To Tiana, living your best life means living in your purpose authentically and not settling for anything less than you deserve. Tiana believes that life is meant to be enjoyed whether through food or movement, and of course with loved ones.
---