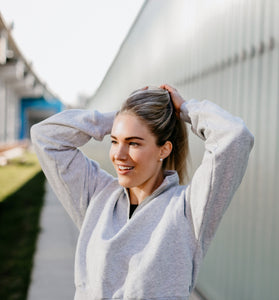 Clancy Budiak-Jarvie
Bio
Meet Clancy, a Registered Occupational Therapist with a MSc and BSc. Kinesiology who balances her full time occupation working in an acute care hospital with organ transplant patients with her passion for health, fitness, and wellness. Clancy works as a Group Coach and Personal Trainer at a women's fitness club called MOVE, where the belief is that training isn't just about looking good in a bikini, but feeling strong from inside out. Ever since a young age, Clancy has recognized the benefits of strength training on sports performance, injury prevention, recovery and overall health. She aims to guide and educate her clients towards maintaining sustainable health habits and is constantly practicing what she preaches. Clancy believes fitness and physical exercise should be FUN because if it's not, then why are we doing it?? Fitness-ing with friends is her favourite pastime - whether it be at the CrossFit gym or going for a bike ride - moving however feels good is good! 
Favourite Way to Sweat
For Clancy, the sweatier the workout, the better! Clancy constantly varies her training but trains primarily out of a CrossFit gym. Her perfect training day would consist of an explosive power movement like an Olympic lift - Snatch! To Clancy, nothing feels better than a perfect lift at a high percentage. Then hitting a sweaty MetCon (metabolic conditioning) with her friends.
Favourite Way to Recover Post-Workout
Greatest Accomplishment
Clancy considers her greatest life accomplishment to be balancing her occupation as a full-time acute care Occupational Therapist, coaching at a strength and conditioning club and maintaining her training, health, wellness and social relationships. Her greatest fitness-related accomplishment (so far) would be snatching 155 lbs. 
Go-To Recipe
Living Your Best Life
To Clancy, Living your best life means doing what you love every day. For her, this is helping her patients regain their independence in everyday activities and helping her clients reach their health and fitness goals in the gym. It means knowing that you are doing the best for yourself, moving daily, nourishing your body and keeping your mind well.
Favourite Products
---