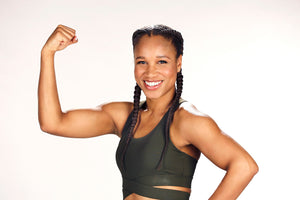 Chloe Alleyne
Bio
Chloe Alleyne is a certified personal trainer, group fitness instructor, healthy eating for weight loss coach and on-air fitness expert for CTV's The Social. Whether she's hosting Sweat Escapes, her Caribbean fitness retreat, teaching classes or training clients, Chloe's goal is to lead by example while motivating others to approach wellness and fitness in a positive light. As a new mom, Chloe strongly believes that a little sweat and movement can bring more joy and balance to your day.
Favourite Way to Sweat
Chloe's favourite way to sweat is dance cardio. She says, "It's like going to the club, during the day without any alcohol." Chloe has been a dance fitness instructor for over 8 years. To her, it doesn't feel like a workout; she could dance all day.
Favourite Way to Recover Post-Workout
Chloe's post-workout routine involves stretching while singing to Love Ballads by Sam Smith and Adele, followed by a cold shower. 
Greatest Accomplishment
Chloe considers her greatest fitness-related accomplishment to be running two half marathons. In addition to this, she is also proud of hosting Sweat Escapes, her fitness retreat in St. Lucia, and becoming a new mom in 2020.
Go-To Recipe
Living Your Best Life
To Chloe, living your best life means daily movement, eating good food, travelling to beautiful places, spending time with loved ones, and pushing yourself to be the best that you can while motivating others to do the same.
Favourite Products
---