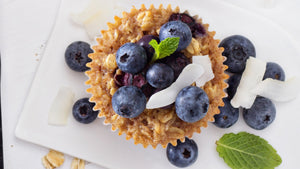 Morning Protein Muffin
Ingredients
| | |
| --- | --- |
| 1 cup | oat flour |
| 1/4 cup | almond flour |
| 1/2 cup | organic unsweetened yogurt |
| 3 | egg whites |
| 1 cup | unsweetened applesauce |
| 2 tbsp | maple syrup |
| 1 tsp | pure vanilla extract |
| 1 | peeled mashed ripe banana |
| 1 tsp | true cinnamon |
| 1 1/2 tsp | aluminum free baking powder |
| 1/2 tsp | aluminum free baking soda |
| 1 tsp | fresh orange zest |
| 1 cup | frozen or fresh organic blueberries or berries of choice |
| 3 scoops | Kaizen Naturals® Whey Protein Vanilla Bean |
Recipe
Makes 8-10 muffins
Preheat oven to 350°F (177°C) and place muffin liners in muffin tin.
In a large mixing bowl, combine egg whites, yogurt, applesauce, vanilla, maple syrup and mashed banana.
In a second large mixing bowl, combine the oat flour, almond flour, protein, baking powder, baking soda, cinnamon and orange zest.
Combine wet and dry ingredients until well-blended. Add blueberries and mix.
Fill each muffin about a third of the way and place in oven to bake for 18 to 22 minutes or until a skewer comes out clean. Store in fridge or at room temperate and enjoy!
---