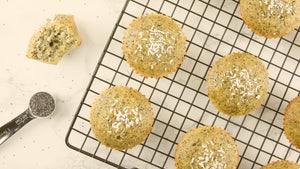 Lemon Poppyseed Muffins
Ingredients
| | |
| --- | --- |
| ¾ cup | coconut flour |
| ¾ cup | maple syrup, at room temperature |
| ¼ cup | melted coconut oil |
| 6 tbsp | fresh lemon juice |
| zest | whole lemon |
| 6  | eggs, at room temperature |
| 1 scoop | Kaizen Naturals® Whey Protein Vanilla Bean |
| 1 tsp | baking soda |
| 1 tsp | vanilla extract |
| 2 tbsp | poppy seeds |
| pinch |  salt |
Glaze
| | |
| --- | --- |
| ¼ cup | raw cashew butter |
| 2 tbsp | pure maple syrup |
| 2 tsp | fresh lemon juice |
| 1-3 tsp  | water, as required to thin |
Recipe
Preheat oven to 350ºF.
Ensure the eggs and maple syrup are at room temperature. If they are not, place them in a bowl of warm water for a few minutes to help them warm up quickly.
In a large bowl, combine coconut flour, maple syrup, coconut oil, eggs, Kaizen Naturals Whey Protein Vanilla Bean, lemon juice and zest, salt, baking soda, poppy seeds, and vanilla. Whisk until smooth.
Bake in oven for 22-25 minutes or until the edges are lightly golden. Cool completely before topping with icing.
To prepare the icing, stir together the cashew butter, maple syrup, and lemon juice in a small bowl until smooth.
Add water one tsp at a time, as needed to thin the icing to your desired consistency.
Drizzle icing over the top of each muffin before serving. Muffins can be stored in an airtight container in the fridge for up to a week.
Recipe Courtesy of Michelle Garland
---