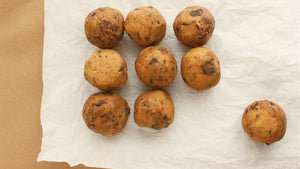 Chocolate Chip Almond Butter Energy Balls
Recipe
Makes 20-24 protein balls
Mix all ingredients, except dark chocolate chips, in a food processor, scraping down the sides as needed, until a doughy texture is achieved.

Transfer dough to a large mixing bowl, then stir in ½ cup dark chocolate chips.

Use approximately 1 heaping tbsp. of dough to roll into a ball shape with your hands.

Once all the energy balls are rolled, place them in an airtight container in the fridge for 20-30 minutes to set.

Store in the fridge for several days, or freezer for several weeks (thaw before eating).

Recipe Courtesy of Zakiya Lalani
---