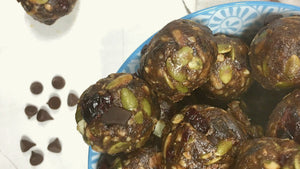 Dark Chocolate Cranberry Protein Bites
Recipe
Makes 32 protein bites
Place the dates, sunflower seeds, protein powder, and almond milk in a food processor. Blend until the batter starts to form into a ball and clump together.
Transfer the dough into a large mixing bowl and fold in the pumpkin seeds, dried cranberries, dark chocolate, and seal salt.
Using a tbsp to scoop the dough, roll the mixture into bit-sized balls.
Store in the fridge for up to 2 weeks.
Recipe Courtesy of Lindsay Mustard
---