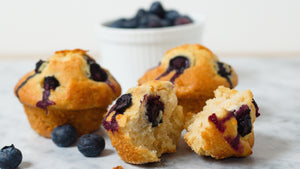 Blueberry Vanilla Protein Muffins
Wet Ingredients
| | |
| --- | --- |
| 2 | eggs |
| or | 1 flax egg for vegan substitute (For flax egg, mix 1 tbsp ground flax abd 2 1/2 tbsp water in bowl. Set aside for 10 minutes to thicken) |
| 1/4 cup | coconut oil (melted) |
|  2 tbsp |  maple syrup |
|  1/2 cup |  almond milk |
|  3/4 - 1 cup |  fresh blueberries |
Dry Ingredients
Recipe
1. Preheat oven to 425°F.
2. Mix dry ingredients in a bowl until combined.
3. Whisk together wet ingredients (except blueberries) in a separate bowl.
4. Combine dry and wet ingredients and mix until a thick batter (with no lumps) is formed.
5. Gently fold in blueberries.
6. In a greased or lined muffin tin, fill each muffin well with batter until ¾ full.
7. Bake for 15-18 minutes at 425°F. You will know the muffins are done when they are golden brown on top and a toothpick inserted into the center of the muffin comes out clean.
8. Let cool for 10-15 minutes before eating.
 Created by Zakiya Lalani
---