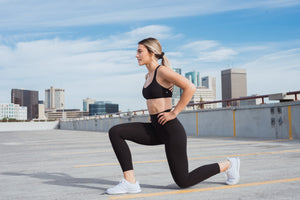 Josée Levesque
Bio
Josée has loved being active from a young age. She trained as a competitive track and field and cross-country athlete from a young age and continued to run as a Bison for the University of Manitoba. It was during her last season that she began to find a love for the gym as well. She slowly began immersing herself in the world of fitness and has loved being able to share her passion for activity and self-care. Now, a personal trainer for two years, Josée continues to grow her passion for training and helping others find their own love for working out.
Favourite Way to Sweat
Josée's favourite way to sweat is running.  She will always be a runner at heart. However, her favourite exercise to do in the gym is hip thrusts.
Favourite Way to Recover Post-Workout
Josée's favourite way to recover is stretching, foam rolling, and having a Kaizen Naturals® protein shake.
Greatest Accomplishment
Josée considers her greatest accomplishment to be launching her clothing company Stride Active.
Go-To Recipe
Favourite Products
---