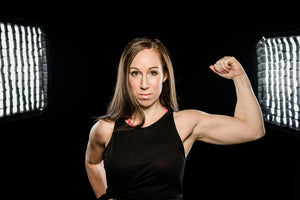 Michelle Roots
Bio
Michelle is a mom of two boys and is the owner and operator of both a fitness studio and online fitness coaching business. Michelle has a Kinesiology degree from the University of Winnipeg, where I also played CIS basketball, and is a certified nutrition coach and certified strength and conditioning specialist (CSCS). In this industry, Michelle believes it is important to never stop learning and furthering her education in order to be the best at what she does and to help more people.
Michelle was voted as one of Canada's top fitness trainers by Impact Magazine in both 2018 and 2020. She loves what she does in helping people become the best version of themselves through living a healthier balanced lifestyle and continuing to challenge themselves. With 14 years experience in the fitness industry, Michelle wouldn't change her career choice for the world.
Favourite Way to Sweat
Michelle loves a good strength training session with quick HIIT intervals with an Inertia Wave, sprints, battle ropes, or skipping rope. She loves the feeling of strength after a good lift session, finished with some accessory work on the TRX, stability ball or functional trainer.
Favourite Way to Recover Post-Workout
Michelle strongly believes that there is nothing like a tasty protein recovery shake and a good stretch after a workout. 
Greatest Accomplishment
Michelle lists her greatest accomplishments as completing her degree, being chosen as one of Canada's top fitness trainers in both 2018 and 2020 by Impact Magazine, and giving birth to both her baby boys.
Go-To Recipe
Living Your Best Life
To Michelle, living your best life means finding a healthy balance. By this she means having a positive relationship with the gym and food. The motto for her business, Core Conditioning, is "Train 4 life & be ready 4 anything" because she believes you don't always need a reason or an event to train hard, but its good to know you are always ready if anything should come up. 
Favourite Products
---