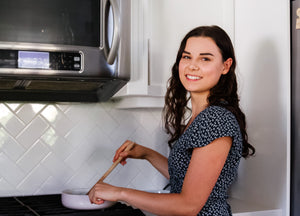 Cristina Delmaestro
Bio
Cristina is a university student at Simon Fraser University currently working towards completing her Bachelor of Science in Molecular Biology and Biochemistry. In her free time, you'll find her in the kitchen creating new recipes for her blog and Instagram! She also coaches learn to skate programs part time, and loves to see the excitement the kids get when they learn a new skill or pass a level. Cristina's goal with her Instagram and Blog is to create a community that supports and uplifts one another to reach their goals. She wants to empower young girls to go after their goals, learn to fuel their body properly, and never be afraid to be themselves!
Favourite Way to Sweat
Cristina loves a mix of HIIT and resistance training. She loves the feeling she gets after a good HIIT session where she really pushes herself to her limits. Lifting weights is something that Cristina likes to challenge herself with, and she keeps working towards lifting heavier or getting more reps in! F45 classes are Cristina's go-to workouts for a quick sweaty sesh!
Favourite Way to Recover Post-Workout
Greatest Accomplishment
One of Cristina's favourite accomplishments in sports was medalling at the BC Winter Games in figure skating! This was a great memory for Cristina since it was different than any other competition she had previously done. You are competing for your team and not just for yourself which is something she had never experienced prior, having been in a solo sport. Academically, one of Cristina's greatest accomplishments is getting on the President & Dean's Honour Roll at SFU. She take her studies very seriously and feels great when her hard work pays off!
Go-To Recipe
Living Your Best Life
To Cristina, living your best life means living a healthy, active, and balanced lifestyle. It means moving your body in ways that feel good and taking care of your body with stretching, yoga, and foam rolling. It means keeping your mind healthy by doing activities that relieve stress, such as working out, meditating, journaling, and going on nature walks. It also means fueling your body with whole, plant-based foods but also enjoying treats, and all your favourite foods. And finally, it means spending time with family and friends that uplift and support you.
Favourite Products
---