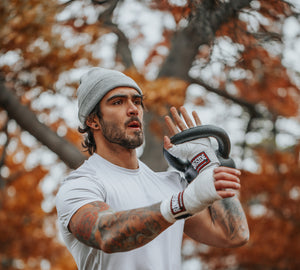 Rob Lopez
Bio
Former varsity athlete Rob is a motivated individual that lives and breathes fitness. Currently working as a personal trainer and fitness coach at F45 King Street in Toronto, Rob completed his BA Honours in Criminology as well as a Masters of Arts in Communications at York University. When he is not training or helping clients achieve their goals, he is teaching customer service skills and professional communications at ILAC International College.
Favourite Way to Sweat
Rob is a fan of sport specific training and getting under some serious weight. He also likes to get his heart rate going with high intensity interval training.
Robs Leg day looks like:
Back Squat 3 x 6
Romanian Deadlift 3x10
Kettlebell swings 3 x 25
Static Lunges 3x8
Banded Hip abduction 3 x 10
Core finisher: Russian twists or ab variation :
Don't forget your warm up sets!
Favourite Way to Recover Post-Workout
Rob's post-workout routine involves a Kaizen Naturals® vegan protein shake, a reflection on the workout's challenges, and a good meal.
Greatest Accomplishment
Rob considers his educational achievements to be his greatest, in both social sciences and fitness. He's also proud of winning his first ever amateur boxing match.
Go-To Recipe
Rob's go-to pre- or post-workout meal is:
⅓ cup of quick oats
1 full banana
1 scoop of Kaizen Naturals® Vegan Protein
1 tbsp of natural peanut butter
2 tbsp of hemp hearts
handful of dried cranberries
⅓ cup of hot water
Living Your Best Life
To Rob, living your best life means waking up everyday ready to take on the day with a positive outlook. It means finding the strength to accomplish your daily goals and harnessing the energy to be your most authentic self. 
Favourite Products
---