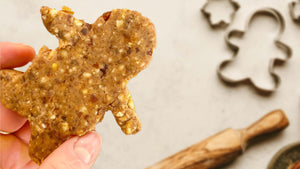 No-Bake Protein Gingerbread Men
Directions
Add the cashews to a food processor and blend until a flour like substance forms
Add the dates, protein powder and spices and blend again.
While the food processor is running, slowly pour in the water until the mixture begins to stick together to the sides of the processor.
Remove from the food processor and transfer the dough to a flat cutting board. Roll the dough flat, cut with a gingerbread cutter and place the cookies on a baking tray.
Freeze for 30 minutes to set and store in an air tight container in the fridge or freezer.
Makes 6 servings.
Recipe by Lindsay Mustard.
---