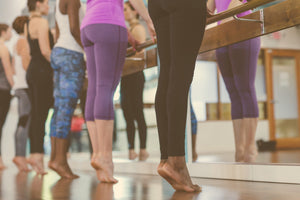 Raise the Barre in November
This post is mostly written for the ladies, but gents, you're welcome to read along too. When it comes to fitness and going toe-to-toe with the cold and dreary month of November, we're here to raise the Barre. After all, when you're having fun working out, it doesn't feel like work — so, why not try a Barre class?
What is Barre?
Whether you've heard of Barre or not, it's not actually new. Like many other trends, this style of working out has been adapted and practiced in some capacity for years. Back in 1959, Lotte Berk of London, opened The Lotte Berk Method on Manchester Street. At the time, she was recovering from a back injury and while rehabbing, the idea came to her; she decided to combine her ballet training with her rehabilitative therapy. Today, Barre is a fusion of ballet, yoga and Pilates and is practiced worldwide.
Named after the ballet prop — the barre — it is the anchor for many of the moves. Isometrics strength training (holding still in a pose), combined with light weights and core mat work makes up what is normally a 45-minute sweat session. Typically a fast-paced class, you can always adapt as needed.
Set to music and lead by an upbeat instructor, many people find Barre an energetic and uplifting way to sweat. Best of all, incorporating Barre into your fitness regime can help to improve your posture and muscle definition while increasing flexibility and reducing stress. 
In fact, according to mayoclinic.org, "Exercise in almost any form can act as a stress reliever. Being active can boost your feel-good endorphins and distract you from daily worries."
So this month, why not add a little more fun to your life, while reducing your stress? Barre may be just the solution. Grab a few girlfriends and torch some calories this month!
---