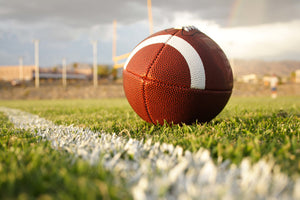 Hanging out with CFL Wide Receiver Manny Areceneaux
If you aren't familiar with our newest ambassador, it's time to get in the game. CFL star, Manny Arceneaux, has been lighting up the Lions field for years. In fact, this wide receiver is a crowd favourite and a fitness fanatic. Originally from Lousiana, (hello craw fish!), he's played for the Vikings, the Redskins and the Jets. Not only are we proud to have him here in the CFL, we give Manny extra props because he loves and trains with Kaizen Naturals® products.
In this post, we sat down with him to get to know him better. Check it out!
CFL Manny Arceneaux
KZ – Tell us what a day in your life looks like.
MA – Well, I guess that depends on whether or not I'm in training, playing football or in the off-season. These days, I can be chill. So I wake up, workout and watch some TV. I'm a fan of SpongeBob, Law & Order and NCIS. I also like to play Madden on my PS4.
KZ – What are you most passionate about? What inspires you?
MA – My work ethic! And my mom. She inspires me, especially the way she managed to raise me and my sister on her own. For that alone, she's my super hero! I have never seen her complain about anything.
KZ – What are your health/fitness non-negotiables?
MA – Kaizen Naturals®. It's important to me that I choose products that make me most effective on the field and in the gym.
KZ – What's your favourite guilty pleasure?
MA – Honey Buns and Chocolate Brownies and Ben & Jerrys Ice Cream. (Here we thought he was sweet enough).
KZ – What song is a must on your workout playlist?
MA – AWOL – Sail (remix)
Well there you have it folks. Love your momma and choose quality supplements. 
---