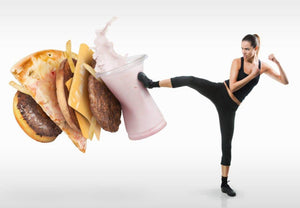 5 Tips to Help You Get Back on the Healthy Track
In our previous post, we tried to arm you with sound advice for adhering to healthy habits over the holidays. Just in case you had a weak-willed moment, we aren't judging. Seriously, we've all been there… eaten one too many chocolates, gave in to a slice of late night pie or had too many boozy drinks. Fear not, the moment is now to get right back on track. Here are some tips to help you find your way:
1. Start with a solid brekkie. Perhaps skip the side of bacon and opt for a veggie omelet or oatmeal mixed with your favourite Kaizen Naturals® Protein instead. Add in sliced bananas, chia seeds and walnuts for a good-for-you kapow! Especially if you overdid it on the alcohol and dehydration snuck up Grinch-like to steal your good minerals. Chin up Cindy Lou Who. Potassium is found in bananas. Fibre will one-two punch your belly bloat and before your know it, you'll be feeling great again.
2. Hydrate! Drinking water, seltzer or herbal tea after a weekend of non-stop snacking will help to flush out toxins, ramp up your digestion and fight gas-induced bloating. Here at Kaizen we don't normally eat rich, salty or fatty foods, but when we do, H2O helps to replenish and restore our bodies. Water will also combat excessive sodium levels and the infamous food baby or carb bloat. So fill up your cup and get hydrating – with the good stuff.
3. Get your sweat on! Light exercise is the best thing you can do to help your body bounce back after a holiday gorge. Not only does it speed up digestion, but exercising evens out your blood sugar and removes excess glucose from your bloodstream, which eliminates cravings and rights your mindset. A good sweat during a spin or yoga class, after a run or post-lifting will help you to feel and think right.
4. Make a plan! To eat healthy again that is. Think leafy greens and lean cuts of meat. Nibble on fresh fruit and healthy fats such as seeds or nuts to get you back on track, Jack. Seriously, complex carbs such as sweet potatoes, brown rice and quinoa will keep you satiated between meals. Benjamin Franklin said, "If you fail to plan, you are planning to fail." So get (food) mapping!
5. Lastly, practice self-love. Stay off the scale, the excess water weight will only make you feel worse about your choices. Treat yourself to a coconut water, call up a pal and order a movie. If that doesn't make you feel better, hug it out. That's right, "Hug it out!" After all, real is the new black. So forgive yourself and return promptly to your fitness aspirations. We've got your back.
---