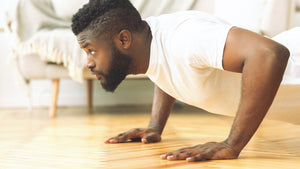 5 Bodyweight Workouts You Can Do At Home
What we are currently experiencing around the world is extremely difficult. It has likely indirectly impacted us all and has challenged our daily lives. This is a time of uncertainty and stress. Which is why its more important than ever to stay active, as exercise can act as a stress relief. Not only that but sticking to an exercise routine can also give you a sense of calm and normalcy in a time that is anything but normal. So, we've put together this weekly workout plan with 5 bodyweight workouts that you can do at home.
Thursday – Rest
Even though we are working out from home, and potentially using only our bodyweight, we still need rest. Give your muscles the time off they need to recover. Instead of doing a workout, we suggest some active recovery, such as going for a walk. The sunshine and fresh air will also help to lift your mood.
Sunday – Rest
Stay home and stay healthy.
---