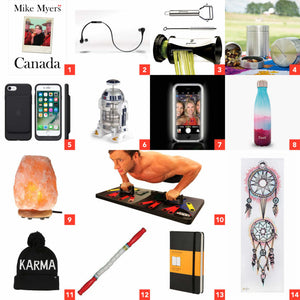 2016 Holiday Gifts for Everyone on Your List
Smart, Thoughtful Gifts for Everyone on Your Shopping List
In our previous post, we shared with you several reasons why giving to others is good for your health, and your heart. Based on that wisdom, we've crafted this list of fab gifts for the holiday season.
For the Reader…
Comedy superstar Mike Myers writes candidly about his beloved homeland in Canada, a hilarious and heartfelt new book, part memoir, part history and pure laughs. A great gift for the reader, jokester or proud Canadian on your list.
For the Music Lover…
Jaybird's new headphones not only provide perfectly pitched sound on-the-run, they are lightweight, super comfortable and sweat proof. So turn up the cardio and bring on the beats.
For the Foodie…
Procizion has developed an easy kitchen tool, sure to make zoodles (zucchini noodles) mainstream. Help facilitate healthful eating habits while increase reducing carbs with their Vegetable Spiralizer Cutter. This handy tool will impress any foodie on your list and turn zucchini into pasta with ease.
For the Busy Person…
Most people think water when they think Klean Kanteen. However, this brand also makes stainless steel food canisters for anyone eating on the go. They are BPA-free, eco-friendly, leakproof, airtight, shatterproof, and make for a considerate gift for anyone who likes to snack on the go, wet and dry foods alike.
For the Tech Guy…
While a low battery notification is just unacceptable, this gift is not. Apple has made a protective battery pack for people who need to stay connected. Engineered exclusively for the iPhone 7, this Smart Battery Case not only extends, it protects too.
For the Coffee Lover…
ThinkGeek has produced a Star Wars R2-D2 Coffee Press for the man who aspires to be Luke Skywalker but needs a coffee before pulling out his lightsaber. This 4-cup, 32-ounce coffee press is built into the body of everyone's favorite droid, R2-D2.
For the Selfie-Lover…
Nothing spells good times like a photo of you and your besties after a fun night out. This LuMee Illuminated 'Light Up' Selfie Phone Case has its own battery and provides the lighting you need to capture all your favourite, late night moments.
For the Chic…
S'Well Water Bottles continue to be more and more of an artful accessory. Beautifully crafted, environmentally friendly and will keep beverages hot or cold for extended periods of time, they are an eye-catching, yet practical gift for the stylish person on your list. Collections vary from gems to glitter, camo to marble and everything in between.
For the Sleep Junkie…
Himalayan Salt Lamps not only give off a serene glow, they attract water molecules which float around your home carrying common allergens such as dust, pollen, pet dander, and even bacteria and viruses. While enhancing the sleep ambiance in any room, they hold onto the particles, heat up the water molecules and send them back, clean, into the air. Sleep tight!
For the Home Gym Enthusiast…
Power Press's Push Up Board is ideal for anyone looking to sculpt their arms by targeting multiple muscles. The portable handles move around the board to help you target specific muscles. Get ripped at home.
For the Yogi…
Because this practice is more of a way of being than anything else, yoga is all about the student and his or her mat. For the yoga-lover on your list, La Vie Boheme Yoga has designed mats so beautiful, you can't help but get lost in the pose.
For the Openhearted Hipster…
Spiritual Gangster's Karma Knit Beanie is an affordable addition to anyone's wardrobe – from the hockey rink to the gym, you'll stay warm while radiating good vibes in this toque. Plus, it's adorable!
For the Runner…
Road Runner's "The Stick" is an easy to pack, therapeutic must-have for any runner who wants to keep his or her muscles pain-free. Available in travel-size, it helps relieve muscle pain and increases range of motion, as well as flexibility by activating trigger points within the body.
Lastly, for the Inspired…
Moleskine is a coveted gift for anyone who likes to log their thoughts, inspiration or to-dos. Available in a vast range of colours and collections for everyone who likes to write, sketch, create – also makes for a great stocking stuffer.
So get shopping.
---