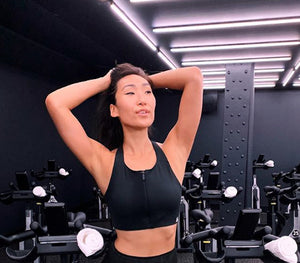 Sylvia Kim
Bio
Sylvia is a fitness instructor and personal growth junkie. She has a passion for helping others find a love for fitness and for themselves. Quitting the 9-5 corporate world after many years to pursue a freelance life of fitness full-time, she believes that there is no set timeline for life, and everyone has a unique path to finding their passion. Still on a journey of personal self-discovery as she navigates life with grief, fitness, and a new career path, her dream is to make an impact and help others find themselves and navigate their way through life with acceptance, light, and positivity.
Favourite Way to Sweat
Sylvia loves to move her body in many different ways but boxing is her happy place. Hitting the bag leaves her with the happy feels that no other form of exercise has ever before.
Favourite Way to Recover Post-Workout
For Sylvia, foam rolling and massage guns are a must. She also loves to take hot Epsom salt baths to relax and recover.
Greatest Accomplishment
Sylvia's greatest accomplishment is being showcased as part of the Re-Imagine Sport national campaign, celebrating women and body positivity and inclusivity.
Go-To Recipe
Kaizen Naturals® Chocolate Cinnamon Protein Pancakes
Living Your Best Life
To Sylvia, living your best life means serving others. It means showing up for yourself and others with love and kindness. It means moving your body in ways that feel good and doing what fuels you every day.
Favourite Products
---