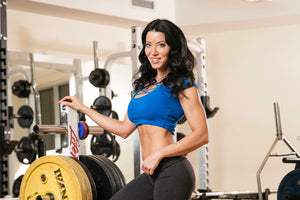 Julie Germaine
Bio
Julie Germaine is a NFLA-certified fitness expert and prenatal trainer, and an NASM-certified nutrition specialist. She is also a 2x world-class fitness champion and cover model who has been featured in and contributed to numerous fitness, fashion, and lifestyle magazines and other media. Coach Julie published her first book, "The 90-Day Weight Training Plan," in fall 2020, and her health-related cookbook is nearing release. This fit mom also offers a virtual online body transformation program called Sweat with Julie, and a popular 30 Day VIP Fat Loss Challenge. Her passion for bodybuilding began early, when she self-educated to start lifting at age 17. Since 2005, her mission has been helping men and women around the world lose weight, build muscle, and achieve better health.
Favourite way to sweat
Julie has loved lifting weights since she was 17, but preceding that was her passion for rollerblading. For Julie, tanning and sweating in the sunshine is the best feeling. Julie has taken her blades to California, Mexico, Montréal and more, adding that it makes fitness fun and keeps her abs tight every summer.
Favourite way to recover post-workout
Julie enjoys spending 10 to 15 minutes of deep stretching to maintain mobility after her weight training sessions, and always finishes with a Kaizen Naturals smoothie.
Greatest accomplishment
Julie's competitive fitness career was 12 consecutive years long, the majority in the professional league, including two International Pro Championship title wins. But she is truly proud to have helped thousands of people all around the world through her online coaching: Sweat with Julie / Real Wealth Health Inc.
Her greatest gift has been raising her kind (and very active) daughter, Amelia.
Favourite recipe
Favourite Kaizen Naturals products
What it means to live a healthy life
Providing a strong and healthy role model for her children and being able to do what she loves without limitations. 
---