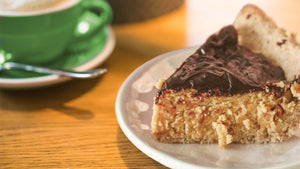 Protein Peanut Butter Pie
Directions:
In a bowl, cream together all ingredients (except for the non dairy milk) until a crumbly mixture forms.
Add in the milk 1 tbsp at a time until a dough forms. Amount needed will vary.
Roll into a ball and squish into a thick disk before placing inside an already cooked pie crust of your choice.
Top with some melted chocolate, refrigerate, and enjoy!
Makes one mini pie

MACROS (pie filling):
Calories: 300 Carbs:14g Fat: 22g Protein:34g
Recipe by Clara McLeod.
---