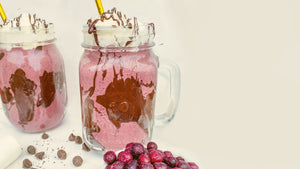 Frozen Hot Chocolate
Ingredients
| | |
| --- | --- |
| 2 cups | unsweetened almond milk |
| 3 tbsp | cocoa powder |
| 1 scoop | Kaizen Naturals® Whey Protein Decadent Chocolate |
| 1 1/2 | frozen bananas |
| 1 tsp | vanilla |
| 2 tbsp | peanut butter |
| 1/2 cup | frozen blueberries |
| 3 | ice cubes |
| 2 tbsp | dark chocolate chips, melted |
| |  whipped cream |
Recipe
Place two small mason jars in the freezer for 15 minutes. 
In a small saucepan or bowl in the microwave, melt the dark chocolate. Let it cool completely. Using a spoon, pour half of the chocolate into the frozen mason jars and return to the freezer. 
In a high-speed blender, add the almond milk, cocoa powder, protein powder, banana, vanilla, peanut butter, frozen blueberries, and ice cubes and blend until smooth. 
Pour into the mason jars, top with whipped cream, and sprinkle with dark chocolate shavings and sea salt. 
Recipe Courtesy of Lindsay Mustard
---