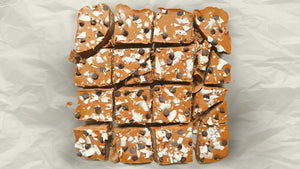 Chocolate Peanut Butter Protein Freezer Fudge
Recipe
Makes 16 servings
Mix all ingredients together in a large bowl until you have a smooth, creamy mixture.
Pour mixture into an 8X8 pan lined with parchment paper.
If desired, add toppings (ex. sliced strawberries).
Place the pan in the freezer for at least 1 hour to let the mixture set before cutting into squares.
Store in freezer.
Recipe courtesy of Zakiya Lalani
---