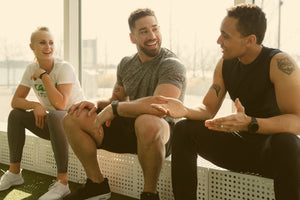 Training for Improved Mental Health
With Guest Blogger Kyle Ardill
Recently, the discussion around mental health has been surfacing more and more. Society seems to be coming to grips with the fact that it is okay to talk about our internal struggles and now, more than ever, it is acceptable to work towards and benefit from our health – both mental and physical. We are living in a time of great change, with some incredible people standing up and speaking out about mental health issues. Athletes, doctors, CEOs, and massive businesses are opening the door to help change the mindset of society. I applaud all of those who are helping to do this.
I think about this blossoming acceptance most often when I am, in fact, experiencing stress, anxiousness, or insecurity. What helps me get through these moments is knowing that everyone has bouts of feeling a similar way. Yes, I said it, everyone. If you are reading this and thinking that you are on your own, well you are incorrect. In addition, my fitness routine, working out with like-minded individuals, helps to stabilize my mood.
As an athlete, I pushed my limits every day and put in 100% effort and focus, knowing that my time in competition had an expiry date. My coaches were smart enough to know that it wasn't necessary to yell at me because I would be harder on myself than they ever could. However, as a business owner, a son, and a brother, in which there is no expiration date, this behaviour and self-doubt could not continue. I found that it was necessary to focus on bettering my mental health to avoid a long life of uncertainty and self-punishment for lack of perfection.
This proved difficult while I was opening a business, building relationships, taking on new roles, and struggling to find time to spend with loved ones. I was unable to keep up with my ideal training regime and was constantly worrying about those around me. I knew I needed to make a mental change, so I did. I had to slow down and take the time to recognize how hard I was working, to think about the amazing people around me, and remind myself that it is okay. When my mental mindset changed, so did my life.
What I want to offer, with this platform that I have built, is to let you know that it is okay. Life will not always be perfect; you will have daily struggles and feel like you have mountains to overcome, but it is okay. I wanted to share my story of struggle and offer what I have learned.
My profession, in the health and wellness field, is one of the most simple and proven ways to realign individual mindsets. Being in this field for nearly a decade, I have seen what training can do for people. I have seen first hand how proper exercise, community participation, and being vulnerable with a trainer can help people. I have seen clients at their all-time lows, their highs, and everything in between and I have consistently seen the gym be their rock and help them to lead healthier, happier lives.
Having a consistent schedule and putting in that extra effort every day can completely change your mindset. The beauty of many training facilities, like SWAT Health, is that the community within them can have such a positive impact on the people that join. Combining your workouts with a sense of community can manufacture rapid growth, physically and mentally. My experiences have demonstrated that everyone can benefit from exercise and from community.
Remember, there are classes being held in gyms all over the country, there are instructors who care about your needs, and there are groups of people dealing with similar situations. Go meet them and open up.
So, get active, find a community with a positive outlook, create a schedule, stick to it, win at it everyday, and be proud of what you are accomplishing. Lastly, remember that it is okay. Now, pull up your socks and get it done.
---