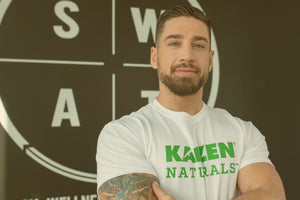 Integrated Weight Training Program with Kyle Ardill
Living your best, most balanced life isn't always easy. We, at Kaizen Naturals®, want to help you get there. That's why we have teamed up with Kyle Ardill, one of the most sought-after fitness coaches in the Greater Toronto Area and co-founder of SWAT Health, to provide you with a 7-day Integrated Training Program, that you can download right here. Rather than focusing solely on muscle and aesthetics, this training guide incorporates aspects of both traditional weightlifting and functional fitness to help you find balance in your training regimen.
With emphasis placed on improving not only strength, but also agility, endurance, and overall performance, integrated training is drastically increasing in popularity. Let Kyle help you reach optimal performance and improve your overall health with moves, such as skater strides, split jumps, and explosive broad jumps, that use only your bodyweight, in conjunction with big compound movements, such as back squats and deadlifts, for maximum strength gains 
Whether you're looking to burn fat, improve your endurance, or increase your muscle definition, this program is right for you.  Designed for all fitness levels, this program includes helpful tips to ensure proper form and execution of each exercise.
To get the most out of your workouts and help with recovery and muscle building, Kyle recommends supplementing with high-quality products, such as Kaizen Naturals® Whey, Isolate, or Vegan Protein.
Find the Integrated Weight Training Program with Kyle Ardill here and begin your journey to a healthier, more balanced life AND training regimen.
---