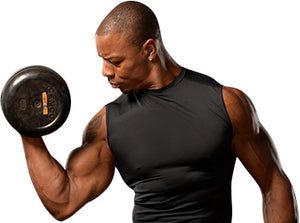 Tommy Europe
Bio
Tommy Europe is an actor, stunt man, professional trainer, and former professional Canadian football defensive back who played eleven seasons in the Canadian Football League.
Favourite Way to Sweat
Tommy loves to challenge himself and he is all about HIIT and core strength training. Some of his favourite exercises include:
Skipping
Banded lateral walks
Box jumps
Stability ball hamstring curls
Lateral skater jumps
Hip thrust
30-second all out sprint
Favourite Way to Recover Post-Workout
Tommy's favourite way to recover post workout is with some mobility work and using a Hypervolt. He also enjoys a post-workout smoothie.
Greatest Accomplishment
Tommy considers raising his children to be his greatest accomplishment.
Go-To Recipe
Living Your Best Life
To Tommy, living your best life means doing what you love to do and staying healthy and strong.
Favourite Products
---