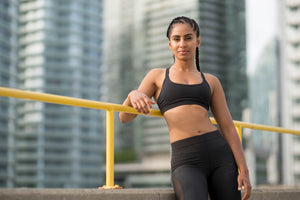 Gursharon Kaur
Bio
Gursharon is a certified trainer, coach, and martial artist. Growing up as an athlete, Gursharon gained a lot of confidence from sport, that she otherwise did not have. Gursharon has been training in martial arts for the past 15 years, having fallen in love with Taekwondo as a teenager. After achieving her black belt, she also dabbled in kickboxing, grappling, and then settled on Brazilian Jiu Jitsu, competing regularly for 6 years now. 
Gursharon has come to realize the importance of knowing how to take care of her health. Martial arts, and her experience in strength training, have given her the skills to do just that. As an athlete, Gursharon knows that importance of strength, conditioning, nutrition, and recovery. And she wants to share those skills with other young women, young athletes, and anyone looking to become the strongest version of themselves. 
Favourite Way to Sweat
Gursharon's favourite way to sweat is with a few rounds of BJJ rolls. 
Favourite Way to Recover Post-Workout
Gursharon's post-workout routine involves a big, nutritious meal and a salt bath. 
Greatest Accomplishment
Gursharon considers her greatest accomplishment to be getting her purple belt in Brazilian Jiu Jitsu.
Living Your Best Life
To Gursharon, living your best life means doing what you love with the people you love, everyday.
Favourite Products
---