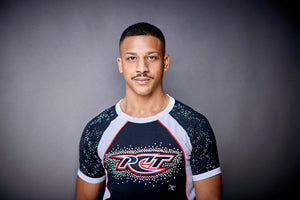 Denzel Grant
Bio
Denzel is a Toronto-native who enjoys being creative, active and is interested in pop culture and social issues.  He graduated from Humber College with a Bachelor of Digital Communications and has been a competitive cheerleader for over 10 years. Denzel has won several provincial and national titles with PCT Cheer and Tumble and brought home a bronze medal from the 2019 World Championships with his team Temptation. Over the pandemic he was able to really focus on his fitness journey which has become a bigger part of his life by discovering more ways he loves to sweat outside of the cheer gym.
Favourite Way to Sweat
Denzel loves HIIT workouts and running along the lake, but his favourite way to sweat is training with his cheer team. 
Favourite Way to Recover Post-Workout
Denzel's post-workout routine involves a good stretch and a big chocolate peanut butter protein smoothie. 
Greatest Accomplishment
Denzel considers his greatest accomplishment to be winning the bronze medal at the 2019 Cheerleading World Championship. 
Go-To Recipe
Living Your Best Life
To Denzel, living your best life means living with no regrets, trying new things, and knowing you're never too old to learn something in a world that is forever changing. 
Favourite Products
---