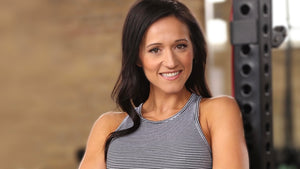 Daniela DeFeo
Bio
Daniela is a nationally published author, health and fitness coach and wellness influencer. Her contributions have been featured in premiere fitness publications and she works with leading brands to promote holistic health and wellness. She is the founder of DeeVita Wellness, where she provides personalized nutrition and fitness programs and aims to empower individuals to achieve and sustain their fitness goals.
Daniela has two health/wellness philosophies: 1) Take CARE of your health, before it takes CHARGE of you, 2) Moderation, not deprivation. She enjoys getting her daily dose of Vitamin D by spending time outdoors hiking or writing her latest article, dancing between sets during workout sessions or stirrin' it up in the kitchen baking healthy protein treats!
Favourite Way to Sweat
Daniela loves a killer strength training session followed by a cool-down of stretching + mini meditation. Her favourite muscle group to work out – SHOULDERS.
Daniela's Boulder Shoulder Workout:
*Seated Dumbbell Press 4 x 10
*Lateral Raise 4 x 10
*Front Raise superset w/Hammer-Grip Front Raise 3 x 8
*Bent-over Lateral Raise 4 x 10
Favourite Way to Recover Post-Workout
Daniela is a self-proclaimed protein smoothie queen and loves being creative in the kitchen, crafting variations of smoothie recipes + healthy-baked protein treats. She enjoys active recovery days of walking, cycling, stretching as well as getting a massage.
Go-to Recipe
Daniela enjoys Chocolate Protein Granola made with Decadent Chocolate Whey Isolate.
Greatest Accomplishment
Daniela considers her greatest accomplishment to be launching of DeeVita Wellness where she provides nutrition and fitness coaching as well as content creation services, working with leading publications and brands. Her articles have been featured in national health and fitness magazines. She was also one of the winners in Best Protein Chef Canada competition. 
Living Your Best Life
To Daniela, living your best life means living a life with intention, that fortifies your body, mind and spirit. Eat wholesome foods (indulgences in moderation, of course!), move your body, practice gratitude, find balance, and smile!
Favourite Products
---