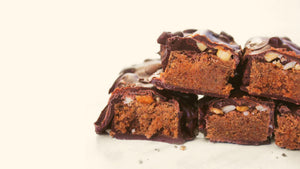 Protein Candy Bar
Recipe
Blend together the dates, protein, and vanilla until crumbly.
Press the mixture into a small dish until about 1 inch in thickness.
Press chopped peanuts into the top and freeze for 30 minutes.
Once the mixture is solid, melt the chocolate.
Slice the protein bars into 8 pieces and dip each one into the melted chocolate to coat.
Freeze again until firm.
Recipe Courtesy of Clara MacLeod
---