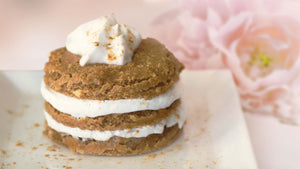 Cinnamon Spice Cake
Directions
Preheat the oven to 375 and line a cookie sheet with parchment paper. 

In a large bowl, combine the coconut oil, sugar, protein, and cinnamon until smooth. 

Stir in the soy milk (room temperature) and the apple cider vinegar to form a loose batter. 

Add the salt, baking powder, and flour, and mix well. 

Pour the batter onto the lined cookie sheet and spread to 1/4-1/2 inch thickness. 

Bake for 15-20 mins until golden brown and allow to cool. 

Using a circular cookie cutter, cut your layers. Stack with coconut whipped cream, and enjoy your mini spice cake to share!
Recipe courtesy of Clara Macleod
---