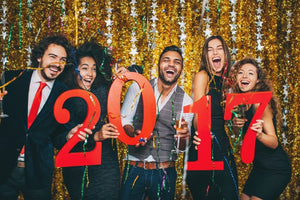 Rock Your New Year - Making 2017 Your Best Yet
A new year is a clean slate to fill with things that have never been. New habits, personal bests, firsts. It is a chance to delve deeper into what fires you up, what your heart longs for.
2016 was a year of completion; a year in which our world lost many greats, people who contributed to the global energy system, not only publicly, but also bravely. Some of these souls include David Bowie, Prince, Mohammed Ali, Gordie Howe, Leonard Cohen, Alan Thicke, Gene Wilder, George Michael and Carrie Fisher. That is a dynamic list, which has left a creative void for many.
So knowing just how precious life can be and using the calendar as a milestone to start anew, is a moniker to take stock of your life. Smile, be proud and then begin again. Put on your sweaties, forgive yourself for any of the mistakes you made in 2016 and put pen to paper. It's time to get clear about what is most important to you and where you want to be a year from now.
We all know water is life's elixir, drink as much as you can. Get your sleep and commit to getting in better shape – even better than you were yesterday. Express your gratitude. Make a list of what you're thankful for and share it with people who lift you up. Think small, big and every blessing in between.
Have a mantra. Think about something you can't do. Something that brings fear or makes you feel uneasy. Now imagine how you'd feel if you conquered that fear, overcome that worry, put to bed that angst. Take those victory emotions, such as strong, happy, and proud, and make your own kickass mantra. I am a warrior. I am strong. I always finish what I set out to do.
Be inspired. Create, dance, sweat, read Big Magic by Elizabeth Gilbert, and infuse well…MAGIC into everything. Our brain is a muscle, work it hard. Train it to see good in the little things, bring big fat joy into your daily chores, your errands and your job. And, so that you can support your wild aspirations of rocking 2017, invest in your health! Run, walk, cycle. Do yoga, Pilates or barre. Squat, lift, kickbox or CrossFit your way to a better bod, a better state of being and a better you.
Rainer Maria Rilke said, "And now we welcome the new year. Full of things that have never been."
Happy New Year from all of us here at Kaizen. May 2017 be filled with the best things that have never been.
---