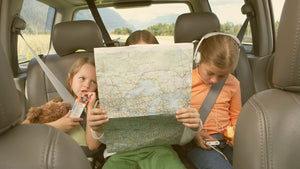 Road Trip Snacks: Pack for Success
Whether your drive is 8 hours or 18 hours, the best way to ensure you and your family stay happy the entire time is to pack snacks. And really, who doesn't love some good road trip snacks? Ensure your family is fueled up for fun with the breakfast, lunch, and snack ideas below!
Breakfast
Early morning departures can mean that you might not have enough time to make a full breakfast before hitting the road. Ensure you aren't skipping the most important meal of the day by planning ahead and trying some of these ideas:
1. Blueberry Vanilla Protein Muffins 
Filling and delicious, these muffins are easy to make the night before and quickly grab on your way out the door.
2. Hard Boiled Eggs
Get your protein and your Omega 3's with this classic breakfast option.
If you have a few extra minutes in the morning, cut into slices and put them in the microwave for 20 seconds before adding a layer of butter on top. The only thing better than banana bread, is warm banana bread with butter.
4. Mini Quiches
A family favourite, mini quiches can be loaded up with all the best veggies, and even better, can be topped with cheese. It's the best of both worlds.
Snacks
If you're anything like us, it doesn't take long for you to want that first snack. Make sure you're ready when the hunger hits.
1. Fruits & Veggies
If you're not big into prep work, a few great options for fruit are oranges, bananas, and apples. All you have to do is pack, peel, and enjoy.
2. Yogurt
Take a simple yogurt to the next level and make it more filling by adding some berries and granola.
3. Energy Bites
With so many different options for flavour combos, you'll be sure to find an energy bite recipe that you love: Chocolate Chip Almond Butter, Dark Chocolate Cranberry, Gingerbread, and Chocolate Chip Peanut Butter.
4. Roasted Chickpeas
A healthy snack alternative, roasted chickpeas are easy to make and can satisfy those salty cravings.
Lunch
Don't want to be set back by stopping for lunch? Don't worry, you can pack healthy options for this too!
1. Homemade Subs
Rather than stopping at a sub shop, this classic road trip lunch can be made at home the night before.
2. Taco Salad
Although salads aren't the first thing that come to mind when thinking of road trip lunches, this easy-to-make option can be packaged into containers the night before and eaten while on the road. All you need to bring is a fork. With protein built in, it's a great way to fill up.
3. Wraps
We love a good wrap, and we think some of the best are made with hummus. Start with a hummus base, add your protein of choice, and your fave veggies, and voila – you've got a delicious, easy to eat road trip lunch.
4. Pasta Salad
Pasta salad is a great side to have with a wrap or homemade sub.
Sweet Treats
What's a road trip without a couple treats? Keep them at least somewhat healthy with the options below.
1. Dark Chocolate
Easy to find at most gas stations or to pack ahead of time.
2. Almond Flour Chocolate Chip Cookies 
A healthy take on the classic dessert – with bonus protein!
3. Cookie Dough Protein Squares 
For those of you who like the cookie dough more than the actual cookies, this recipe is for you.
4. Chocolate Covered Almonds
A mix of sweet and salty; what could be better than that?
Pro tip: after many road trips, we've learned that an essential car item is a mini garbage can. Put wrappers, Ziploc bags, and juice containers in the garbage instead of having them floating around the car. That way, when you stop for gas, you only have one bag to quickly grab and toss away, rather than searching through the car for all the lost trash items.
Have a favourite healthy road trip snack that wasn't included here? Head to our
Instagram
,
Facebook
, or
Twitter
 and let us know what it is!
---