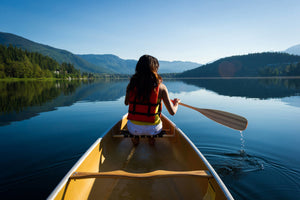 Outdoor Fitness
It's June and the weather is heating up. Depending on where you live in this great nation, you may have more or less creative options when it comes to getting your fitness on outdoors. While fresh air and natural surroundings can be intoxicating, it's just as important to think about staying hydrated during your sweat sessions, as it is to refuel properly afterwards.
Beneath the sun or with the added benefits of a natural blowing fan (the wind! of course), we here at #teamkaizen love taking our sweaty selves outside. In fact, working out in nature somehow seems easier, passes more quickly and believe it or not, can even burn more calories. Maybe it's the expansive landscapes or the energy of others, whatever the reason, the benefits are many. Here are some of our favourite outdoor activities from coast to coast:
Hiking – if you live in a place when you can up-level your cardio by increasing your elevation, you're in luck. Hiking can burn up to 370 calories per hour.
Stand Up Paddle Boarding – up to 500 calories per hour
Canoeing or Kayaking – if you have access to water, canoeing or kayaking can be a great way to start or unwind the day. Both burn up to 850 calories per hour and have meditative benefits too.
Rock Climbing – if you are more of an adventurous soul, rock climbing may be just the activity for you. It can burn up to 750 calories per hour. Be safe and enjoy the climb.
Golfing – swing, drive or put your way fit. Golfing can burn up to 400 calories per hour and often includes incredible views as well as wildlife sightings. Fore!
The bottom line? Get out! Side that is. An hour spent in nature can increase your inner peace and bring about a more grounded way of being, while supporting your active lifestyle. Win-win, no?
---