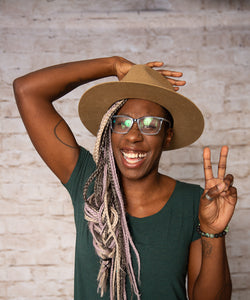 Ro Nwosu
Bio
A lover of pie and dancing, Ro Nwosu brings together a unique combination of high energy athleticism and focused mindfulness to offer you a well-rounded, balanced and healthy lifestyle, no matter your body type, fitness level or mobility.  Dynamic and experienced as a registered Yoga teacher, Yoga Alliance Continuing Education Provider, and fitness instructor she is familiar with the challenges that come with injuries and is a firm believer, that even with limited mobility or experience, everyone can live actively.
Favourite Way to Sweat
Ro's favourite way to sweat is through a Tabata workout, a fun power flow, and always a good dance.
Favourite Way to Recover Post-Workout
Ro's post-workout routine involves lacrosse Balls, Yin, and meditation.
Greatest Accomplishment
Ro considers her greatest accomplishment to be teaching yoga workshops in Singapore and Australia.
Go-To Recipe
Living Your Best Life
To Ro, living your best life means encompassing who you are completely, without apologies, being the best parent, friend and partner, you can be through self-love and compassion for others. It also means being able to bake a strawberry rhubarb pie from scratch.
Favourite Products
---