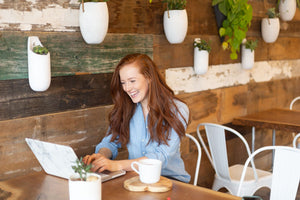 Lindsay Mustard
Bio
After struggling with an eating disorder for over three years, Lindsay came to the overwhelming realization that in order to be happy with herself, she must craft confidence in herself. She began focussing her attention each and every day on being strong and healthy. Now, as a Holistic Nutritionist, Personal Trainer, and Yoga Instructor, Lindsay has found her passion for health and fitness. She is currently studying Osteopathy and Aromatherapy in addition to running her own business. Lindsay has worked hard every single day in order to break free from the dieting mentality and is now happily in the position to help others do the same.
Favourite Way to Sweat
A CrossFit fanatic, Lindsay's favourite movements include: cleans, toes to bar, handstand push ups, dumbbell snatches, and GHD sit-ups. With a love for yoga, she also enjoys Hatha, Power & Yin.
Favourite Way to Recover Post-Workout
Lindsay's post-workout routine consists of yoga and stretching. She also loves enjoying a post-workout smoothie typically made with kale, raspberries, avocado, Kaizen Naturals® Whey Protein, almond butter, and cacao.
Greatest Accomplishment
Lindsay considers her greatest accomplishment to be getting into Osteopathic school.
Go-To Recipe
Living Your Best Life
To Lindsay, living your best life means waking up each day with a passion to share her love for the health and fitness lifestyle. It means following your dreams, regardless of what other people think and surrounding yourself with like-minded, motivated, and epically awesome people.
Favourite Products
---